Due to international competition and organizer conflicts, the CRCPL Meets #2 and #3 were scheduled only a couple weeks apart. Meet #2 was held on June 29th at Skydive Sacramento in Lincoln, CA with Meet #3 scheduled for this weekend (7/13/13).
Meet #2 was a big success with 17 total competitors, 10 in the advanced group and 7 in the pro group. The CRCPL took a big step forward when Richard "Buzz" Bennett volunteered his time to hold a Regional canopy piloting judge rating course. The course started on Friday the 28th and concluded with the end of the meet on June 29th. The course was a success with the league now having several Regionally rated judges. The immediate benefit to the league is standardization and the ability to record and submit California state canopy piloting records. If anyone is interested in becoming a league judge, please contact the league organizers at jacketsdb23@gmail.com to get more information. The continued success of this league is dependent on all of our canopy pilots and our volunteer judges that commit so much time and energy.
The league was also pleased to introduce the timing system for the speed course, which allowed us to not only quickly enter scores for all of the competitors (substantially reducing the time it takes to score the speed rounds) but also to submit CA state speed records.
Meet #2 was extremely hot with temperatures exceeding 105F out on the course. For speed and distance rounds, there was a steady head wind of 6 – 8 mph. The winds picked up slightly mid-afternoon and the competition went on a 2 hour hold as the judges got themselves hydrated and the course was switched over to zone accuracy. The top spot in the advanced group went to Alex Cashman with 522 points edging out Steven Whittenburg with 475 points. Cynthia Currie rounded out the top three with 434 points. With 10 total competitors and less than 85 points separating places 2 – 5, the advanced group has an extremely competitive field.
In the pro group the 7 competitors battled for a top three finish with 4 competitors battling fiercely for the top spot. After the final zone accuracy run, Scott Harper held on to first place with a score of 563 points, Albert Berchtold followed up with 524 points, and Ryan Brownlow got 3rd with a score of 510 points.
In addition to the top three finishes, two new California state records were recorded and submitted to USPA for approval. Ryan Brownlow finshed with the top distance of 319.40 ft and Scott Harper finished with a top speed time of 2.954 seconds. Full competition scores can be found here for both groups.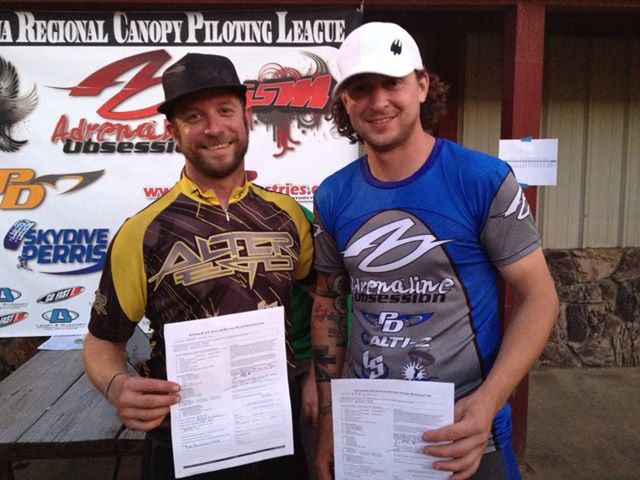 The league looks forward to another meet, with several additional competitors already committing to Meet #3. We expect over 20 competitors this weekend out at Skydive Sacramento. We hope to see you there!